Product Overview
Features
COUNTER FLOW TRAY design deaerator provides guaranteed removal of all dissolved oxygen in excess of .005 cc/liter from 5% to 100% of deaerator capacity.
ELECTRONIC INSTRUMENTATION FOR MODULATING DEAERATOR LEVEL control includes a HART compatible differential pressure transmitter, PID controller, and motorized control valve.
MULTIPLE DEAERATOR CONFIGURATIONS: vertical single tank, standard "tank car" type, or flanged heater section, all providing the same high quality deaeration.
ONLY STAINLESS STEEL components come in contact with undeaerated water. Deaerator trays and tray box are all stainless steel.
A.S.M.E. Code and National Board stamped receivers – 50 psi. Standard vessel options include stress relieving, non-destructive testing and full vacuum.
CUSTOM ENGINEERED PACKAGED DEAERATOR SYSTEMincludes boiler feedwater pumps and quality components to insure reliable service.
Advantages
Counter Flow Tray type deaerators are capable of accepting high percentages of condensate returns without adverse effects on performance. This is possible because the deaeration process does not require a flow of steam for scrubbing. All second stage scrubbing is done by the cascading process through the trays. The counter flow design provides maximum performance because the cleanest incoming steam contacts the water that requires final deaeration, thus stripping out the last traces of oxygen.
GUARANTEED DEAERATOR PERFORMANCE from 5% to 100% of load standard sizes ranging from 6,900 lbs/hr to 300,000 lbs/hr (up to 1,000,000 #/hr upon request)
CUSTOM ENGINEERED PACKAGED DEAERATOR SYSTEM results in a small foot print, minimal onsite installation costs, and a single source of responsibility for all major components.
Steam Flow Pressurized Deaerator – Operation
Makeup water is sprayed into the deaerator through a stainless steel spring-loaded nozzle and into a stainless steel internal vent condenser which is located in the mixing section. This incoming water is heated instantly by direct contact with steam. Returned condensate enters the deaerator below the water level to eliminate pressure decay caused by surging returns.
The deaerated water is then pumped into the deaerating section where it is blasted through stainless steel wide angle, full-cone unrestricted nozzles. The last traces of oxygen are shaken out at the source of the purest steam. The pumped transfer rate is approximately 125% of deaerator capacity, which enables the deaerator to furnish the boiler with deaerated water from start up. Deaeration is accomplished from 0% to 100% load, and thermal stratification is eliminated.
Excess deaerated water, which is not required by the boiler, recycles into the deaerating section through the compartment overflow. This deaerated water is blended with makeup water and is constantly rescrubbed. Non-condensable vapors are expelled from the top of the deaerator through the internal vent condenser.
Steam Flow Pressurized Deaerator – Capacity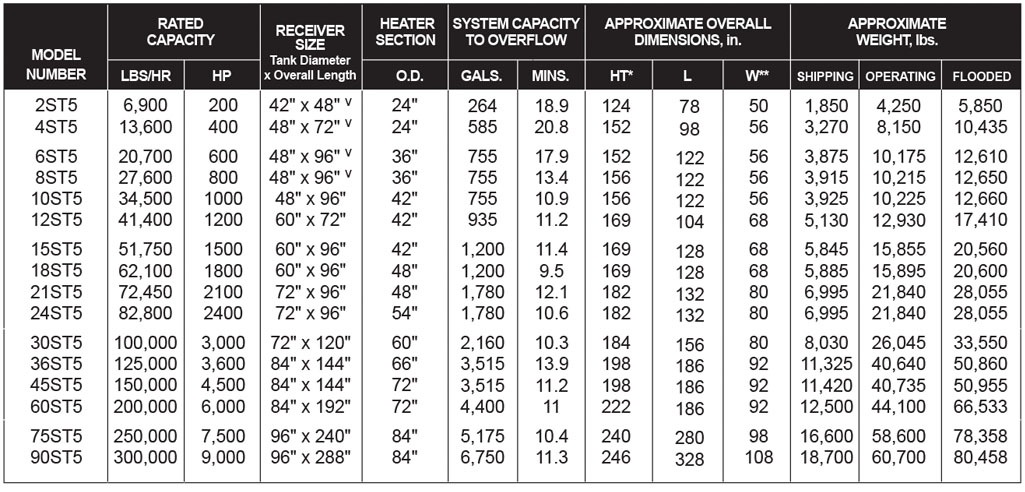 • Consult Factory for systems over 300,000 lbs./hr.
• Weights do not include pumps or optional equipment
• Heater sections sized for 100% make-up
* Includes 48″ Stand** Includes Control Panelv – Single tank vertical design

Water Level Indicator
Pressure Transmitter
Differential Pressure Transmitter(Level)
Pressure Controller
Pressure Control Valve
Make-Up Nozzles
Make-Up Controller
Make-Up Control Valve
Boiler Feed Pump Motor
Boiler Feed Pump
Starter
Control Panel (Nema1)
Gate Valve (Drain)

Gate Valve (Vent)
Safety Relief Valve
Sentinal Relief Valve
Y-Strainer (Make-Up)
Gate Valve (Make-Up)
Globe Valve (Make-Up)
Overflow Trap
Pressure Gauge W/Cock
Temperature Gauge W/Thermometer
Low Water Alarm & Cut Off Switch
High Water Alarm Switch
High Water Alarm Switch
Recirculation Orifice Union

Recirculation Gate Valve
Recirculation Check Valve
Stainless Steel Tray Assembly
Gate Valve (Water Column Drain)
Gate Valve (Water Column Isolation)
Pump Suction Coupling
Pump Suction Gate Valve
Magnesium Anode
18″ Diameter Manway
Chemical Feed Quill
Y-Strainer (Steam)
Pumped Return
12×16 Manway